In this post:
1. What is the Myria Node Distribution
Myria Node Distribution refers to the act of distributing MYRIA and other in-game tokens through the ecosystem via the operations of Myria Nodes. Myria node operators who run their nodes for the minimum required time period in each cycle will receive daily MYRIA distributions. The distribution works on the basis of a point system.
Key considerations for the rationale behind MYRIA node distribution:
Adoption: to attract ecosystem supporters to own and operate nodes
Optimizing sustainability: to incentivize node operators for many years to come so they can continue to support and add value to the ecosystem
Increased scarcity over time: The distribution of $MYRIA will reduce over the years whilst demand and utility of MYRIA are expected to increase. This helps to strengthen the price of the token.
2. What is the distribution point system
The point system is used to determine how MYRIA will be distributed on a daily basis. Myria Node operators must operate their nodes for 6 hours a day in order to receive their Myria node distribution points. Node operators who run their Myria Node for this required period will receive a distribution - each node license rewards 1 point.
Example: If a person owns 3 Myria Node Licenses and runs all 3 nodes for a minimum of 6 hours per cycle, then the person will receive 3 points.
The daily MYRIA amount may vary depending on the number of distributed points in this distribution cycle.
Below is the equation to calculate the MYRIA token distribution amount.
[Total MYRIA tokens to be distributed (based on Node Rewards halving schedule)] / [Total number of points earned (all nodes)] * Total number of points earned by your Nodes
Myria Node operators who fulfil the daily quota and keep their nodes online may also be eligible for exclusive NFTs that can be used in the Myria gaming ecosystem. Note: NFT items are a bonus reward, not a guaranteed reward.
Reward Tab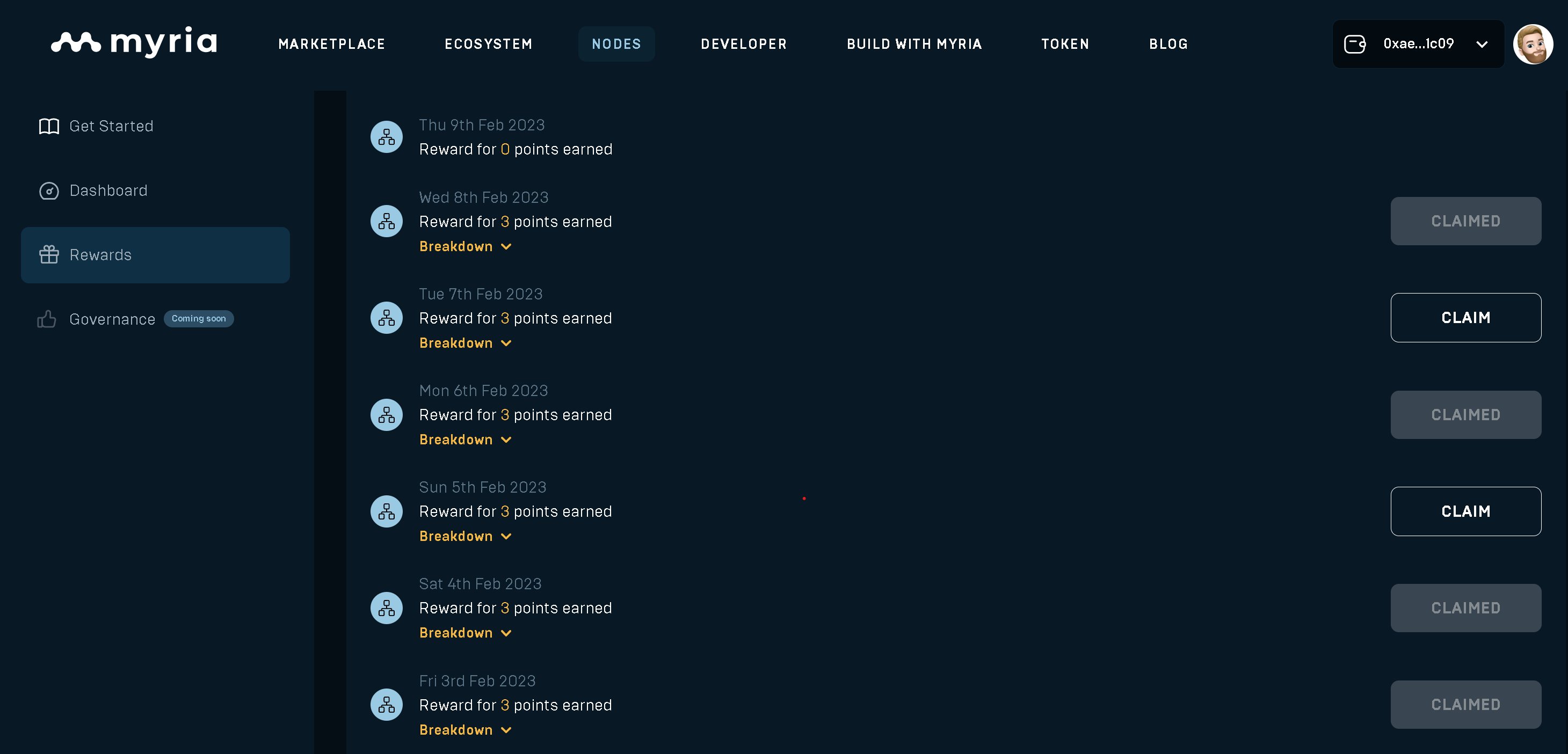 Claim Summary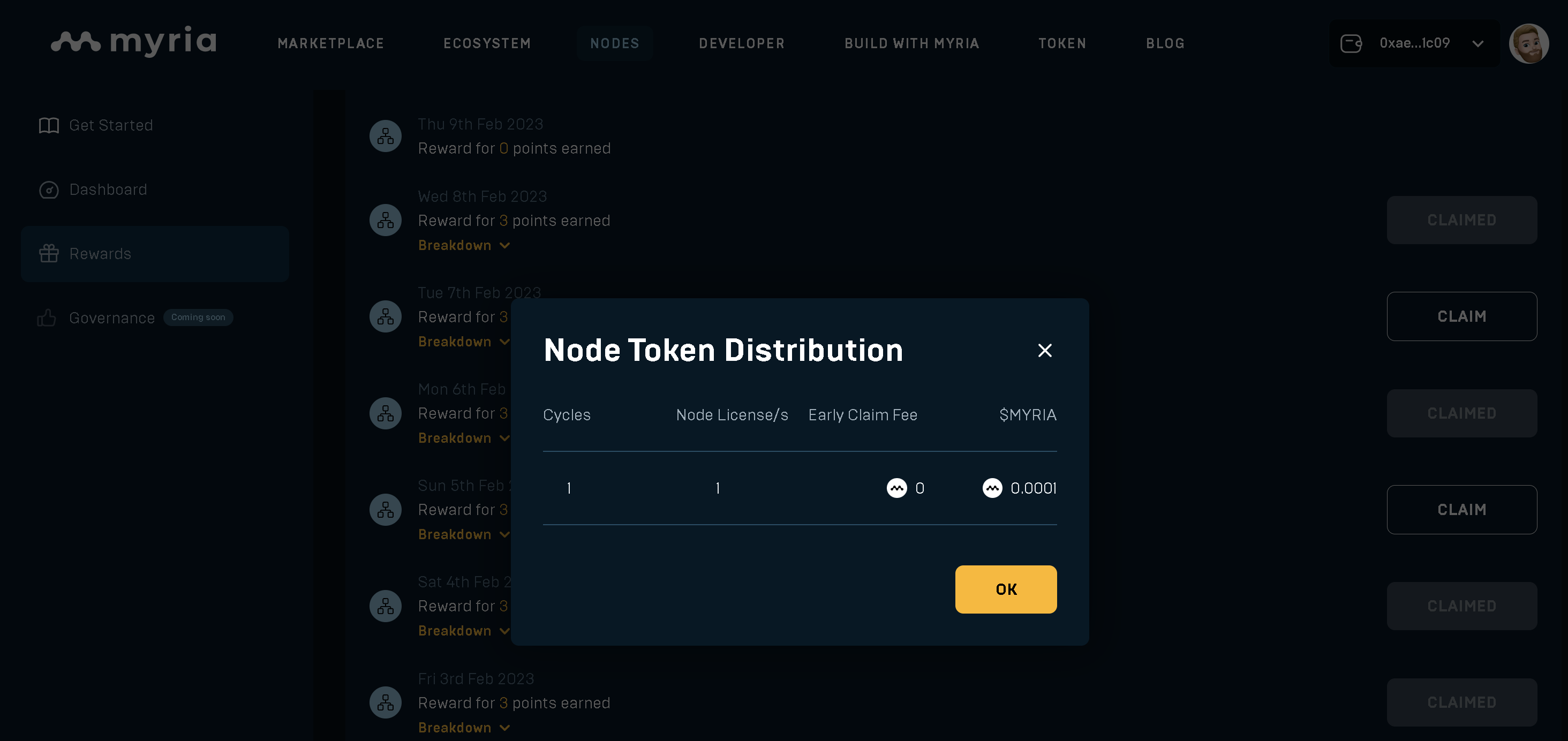 3. What is Early Claim Fee and Ecosystem Bonus Pool?
At the end of each cycle, the successful operation of a single node will earn the user 1 point. Point/s earned during a cycle can be exchanged for MYRIA tokens.
The amount of MYRIA received is determined by the following criteria:
Current halving year of Myria node rewards
Number of points earned by the user (from successful operation of a node/s)
Number of points earned during a given cycle (in total across all Myria nodes operating)
Number of days since the cycle completed
In the example below, we demonstrate the calculation of the amount of MYRIA tokens a user will receive if they successfully operated 1 node for >6 hours today.
No Early Claim Fee:
On the day the node was successfully operated (Day 0) there were 4,999 other nodes successfully operated (5000 total, including your node)
Day 0 was part of the Year 1 halving cycle, which means 12,328,767 $MYRIA is to be distributed to Node owners for 1x cycle
Assuming the user allows the entirety of their $MYRIA earnings to vest (not claiming for a minimum of 7 days), then the user will earn the following: 12,328,767 $MYRIA / 5000 Successfully operated nodes * 1 successfully operated Node = 2,465.7534 $MYRIA
Early Claim Fee:
If the user does not allow the entirety of their $MYRIA earnings to vest (claim within 7 days), then the user will contribute a portion of their $MYRIA to an ecosystem bonus pool


With each passing cycle, since the Day 0 Node cycle was completed, the fee will reduce. Once 7 days have elapsed since the completion of the cycle, Myria will automatically distribute the fully vested $MYRIA Token to the user's Myria Wallet.
Day 0
Day 1
Day 2
Day 3
Day 4
Day 5
Day 6
Day 7
Day 8
Bonus pool contribution
Node Operated Successfully
60
50
40
30
20
10
0
0
Vested (%)
40
50
60
70
80
90
100
100
Example Points (Y1, 1-point, 5000 Nodes)

986.30136

1232.8767

1479.45204

1726.02738

1972.60272

2219.17806

2465.7534

2465.753

4
4. Why does the Early Claim Fee exist?
Myria wants to incentivize Node operators to retain their MYRIA tokens within the ecosystem. The inclusion of a contribution to an ecosystem pool for claiming MYRIA tokens early will discourage node owners from immediately removing the value from the ecosystem in the form of cashing out.
To offset the disincentive, Myria will also automatically distribute MYRIA tokens earned after 7 days post-cycle. This reduces any friction for Myria Node operators when they do not intend to claim early.
Ultimately, we want to decentralize the MYRIA token by spreading it across Node operators vs. retaining it in a centralized Myria wallet. By distributing the earned MYRIA tokens after 7 days post-cycle we can manage the risk of how much MYRIA is required to be held by a centralized wallet.
Additionally, the disincentive to withdraw prior to the 7 day cycle gives us the ability to react and manage additional market fluctuations.
5. How much MYRIA is allocated as Myria Node Rewards
36% of the total MYRIA token supply is allocated for Myria node rewards. The MYRIA token is distributed on a halving schedule (halving occurs every 2 years).
Click here for details around MYRIA tokens.
6. Where will MYRIA token be distributed
MYRIA node token rewards will be distributed on Myria L2 into each node operator's Myria Wallet. Distributed rewards will remain off-chain until node operators claim their token rewards to their MYRIA Wallet (or automatically receive distribution to their MYRIA Wallet, see Early Claim Fee).