In this post, we will be sharing all details around the MYRIA token. Read the full terms and conditions here.
1. What is the MYRIA token?
MYRIA is an ERC-20 utility token. The token serves as the basis for transactions on the Myria Layer 2 scaling protocol with additional in game utilities amongst selected game titles. MYRIA will be distributed to players, node operators, and other participants in the ecosystem, creating a circular economy between users to accelerate ecosystem growth.
2. What is the total supply of MYRIA?
The total supply is 50 billion MYRIA tokens.
3. What is the utility of the MYRIA token?
MYRIA token have the following utility:
Protocol Fee
A proportion of protocol fees on every Myria transaction will be paid in MYRIA token.


Myria Node Purchase
Myria Nodes can only be purchased using MYRIA tokens.

Staking
Staking rewards will be introduced upon the implementation of protocol fees. A dedicated staking reward pool will allow those who meet the staking requirements of MYRIA tokens to receive rewards from this pool.


Governance
As a holder of MYRIA, you hold the key to decide the future direction of Myria. Governance will be introduced where MYRIA token holders can vote on future development and strategic direction of the ecosystem.


Exclusive NFT purchase
MYRIA token will be utilised for purchasing exclusive NFT collections under Myria Studios
4. MYRIA allocation and unlock schedule
See MYRIA token allocation below: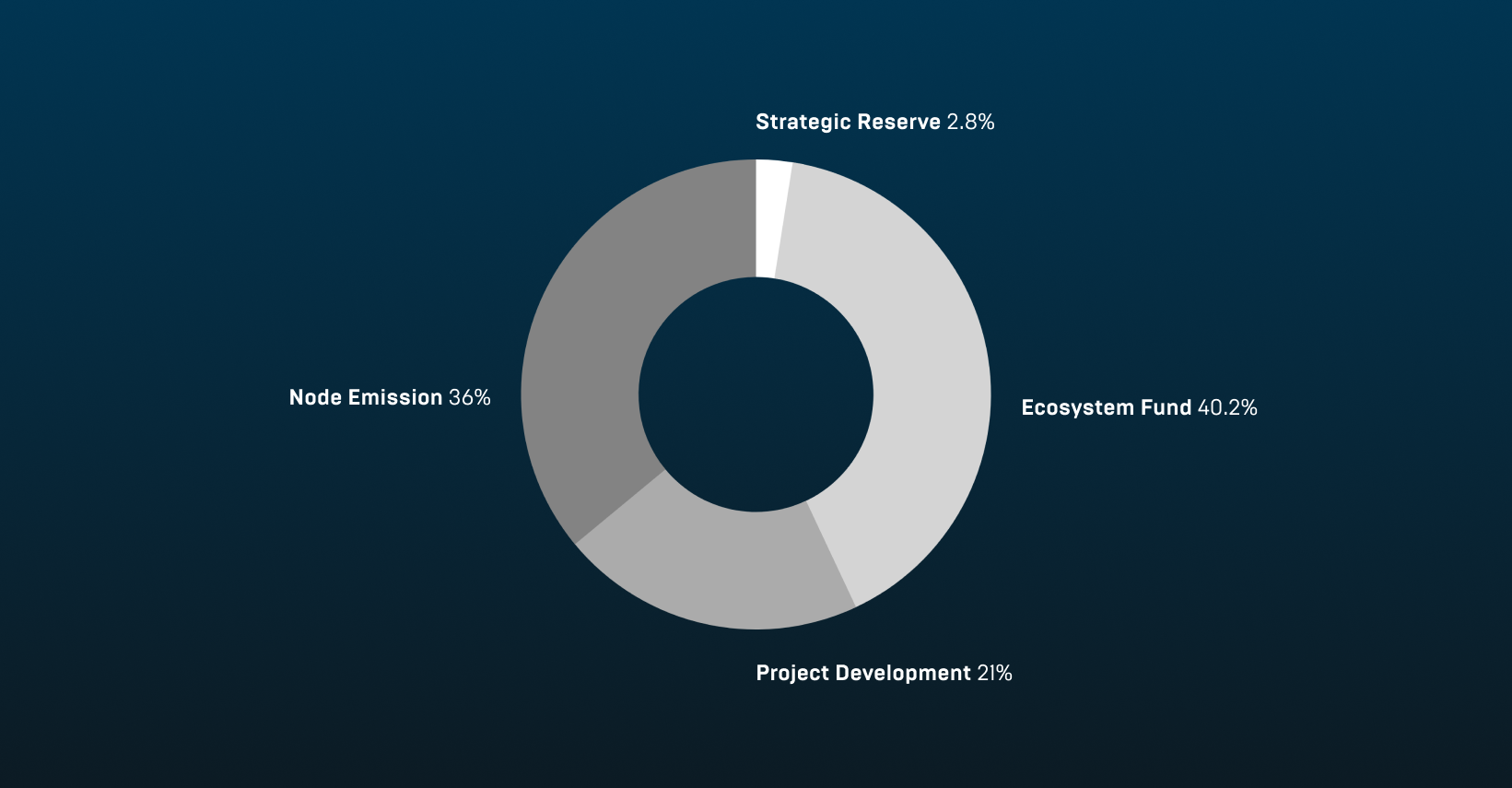 Note: This is the planned tokenomics and may be subject to change later.
Node Emission
Daily MYRIA node distribution to Myria Node operators. See below for distribution schedule.
Ecosystem Fund
Ecosystem funds are allocated as liquidity provision, community rewards, developer grants, marketing programs and any initiatives that can incentivise ecosystem growth.
Project Development
Project development allocation relates to the development of the Myria protocol by the service provider.
Strategic Reserve
Strategic ecosystem development or growth related initiatives.
Due to release schedules and locks, only a fraction of the total existing token supply will be in circulation at the time of token launch. The token unlock schedule differs based on the different allocation types:
| | |
| --- | --- |
| Name | Vesting Period |
| Node Emission | Distributed daily at TGE based on a halving schedule. Halving occurs every 2 years |
| Ecosystem Fund | 13% unlocked immediately, remainder allocation is unlocked over 36 months |
| Project Development | 6 months cliff, linearly vesting over 48 months |
| Strategic Reserve | Immediately Unlocked |
5. Can I deposit and withdraw MYRIA between L1 and L2?
Yes. you will be able to deposit and withdraw MYRIA between L1 and L2. You will also be able to deposit or withdraw MYRIA from any DEX and CEX that supports MYRIA token.